About Us
Cook Lumber, a band saw lumber mill company with over 90 years of forest management and hardwood harvesting experience, relies on high quality Indiana timber to process over 5 million board feet per year. With three dry kilns of a total capacity of 120,000 board feet per change and enough space to dry up to 750,000 board feet on the lumber yard grounds, Cook Lumber is one of the largest lumber operations in Indiana.
History of Cook Lumber
C.C. Cook started the company in 1930. It began as a logging operation with portable sawmill. He would set up the sawmill at the woods and cut railroad ties and timbers for the coal mines. C.C. would run the saw mill during the day and then work on the railroad at night. During the next few years, his business expanded and he was operating four portable sawmills and was able to quit his night job with the railroad.
In the early 1940s, C.C. acquired property in Reelsville, Indiana and started a permanent sawmill. The mill was run with a natural steam engine. While the tough Indiana winters made things hard for the outdoor sawmill, C.C. Cook continued to prevail and was able to grow the company with the addition of a debarker, chipper and the company's first automatic carriage in 1962.
C.C. Cook died in 1963, and his saw mill has been passed down from generation to generation. Charlie Cook and Ronnie Cook, C.C. Cook's grandsons, led the company together until Ronnie passed away in 2014. Charlie continued his leadership until he retired in 2020. Today, Charlie's sons, Craig, Shaun, and Chip, and son-in-law, Brent Holl, are leading the company into the future. For over 90 years, the saw mill has continued to be updated with new technology, furthering Cook Lumber's capabilities. C.C.'s dedication to providing the highest quality hardwoods and a close knit family operation company hasn't changed.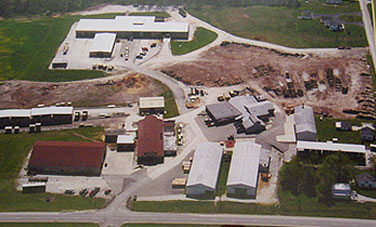 Cook Lumber – Company Overview Video